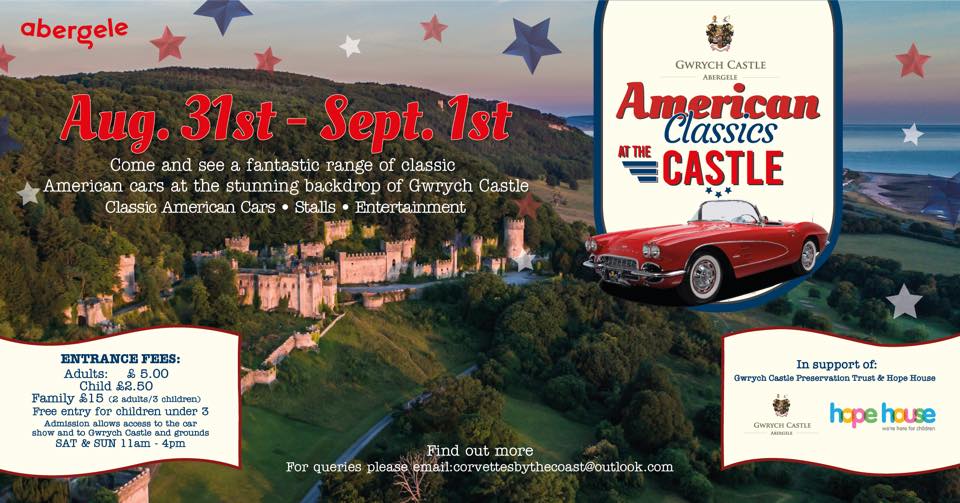 After the success of the 2018 classic American Car Show we've teamed up with Gwrych Castle Preservation Trust to host the event at the beautiful backdrop of Gwrych Castle in Abergele, North Wales. Come and see a wide range of classic Corvettes and classic American Cars, plus American themed stands where there will be food, drink and music throughout the weekend.

In addition to the fabulous American cars, food and drink we will have on offer this weekend at American Classics at the Castle, we're thrilled to announce music will be provided by Simon from the Simon Davies Radio Show and Richie from The Richard Griffiths Radio Show on the Saturday, and DJ Wyn Meirion and DJ Anne Rogers on the Sunday.
Opening and Closing Times
To be held on the 31st August and the 1st September 2019, both days from 11am-4pm, car set up 9:30am for 10am.
General Public Admission
From 11am
Adult – £5.00
Children – £2.50
Children under 3 – FREE
The above includes access to the unique castle and beautiful castle grounds – make a full day of your visit
Further details at www.gwrychcastle.co.uk
Car Registration
ALL CARS MUST BE REGISTERED.
If you would like your classic American Car to be considered for the event, please get in touch at [email protected] with the following information:
1. Name/email/contact number
2. Car make/model/year
3. A picture of your car
4. Days you will be attending (Sat/Sun/Both)

Suggested donation for 1 day £10
Suggested donation for weekend £15
Accommodation
For those attending both days, camping is available at Manorafon Farm (www.manorafon.com) or please look at other local accommodation in and around Abergele, such as:
www.bullhotelabergele.co.uk
www.kinmelmanor.co.uk
www.thekinmelarms.co.uk
Parking
Spaces will be available on the castle grounds, although it will get busy. The venue is a 20 minute walk from Abergele/Pensarn train station or try the number 12 bus route! Please follow the signs and Marshall's will be on hand to assist. It's the first time we've done this so please be patient and courteous to all living things.
Further Information
Please direct any queries to [email protected]
All proceeds are in support of Hope House Ty Gobaith Children's charity and Gwrych Castle Preservation Trust Charity.
The organisers reserve the right to refuse entry.
The organisers except no liability for damage or loss caused during the event.
Owners are welcome to keep their cars overnight at the venue, but this is done at their own risk.