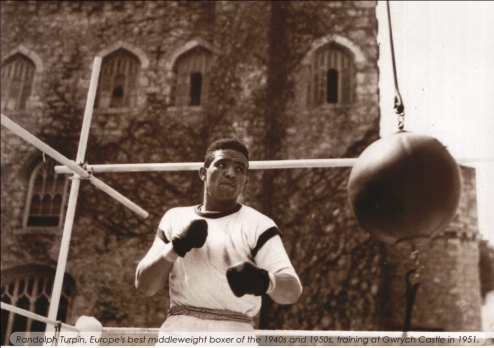 13th and 14th August 2016
12pm til 5pm each day
£5 per adult and children over 12 – £2.50 for children 
Gwrych Castle Preservation Trust welcomes you to join and celebrate the life and achievements of world champion boxer, Randolph Turpin. On August 13th and 14th we will be travelling back to the summer of 1951, 65 years ago, to Turpin's great win against Sugar Ray Robinson. During the weekend there will be a variety of events taking place:
Exhibition Fights
Randolph Memorabilia Exhibition
Stalls and
Guided Tours
Medieval Encampment within the Castle Grounds by the Garrison of Gwrych
Lord of the Wings Falconry Display
Live Music from Mistrafunk
Jay Gatling Magician
Stiltwalkers
Firebreathing
Traditional Morris Dancers 'Clerical Error'
Come and view the Restored Gardener's Tower
Experience the magic of the Castle!
Plus much, much more..!
Spaces are available for stalls – please get in touch!