Click to buy tickets for Halloween Spooktacular event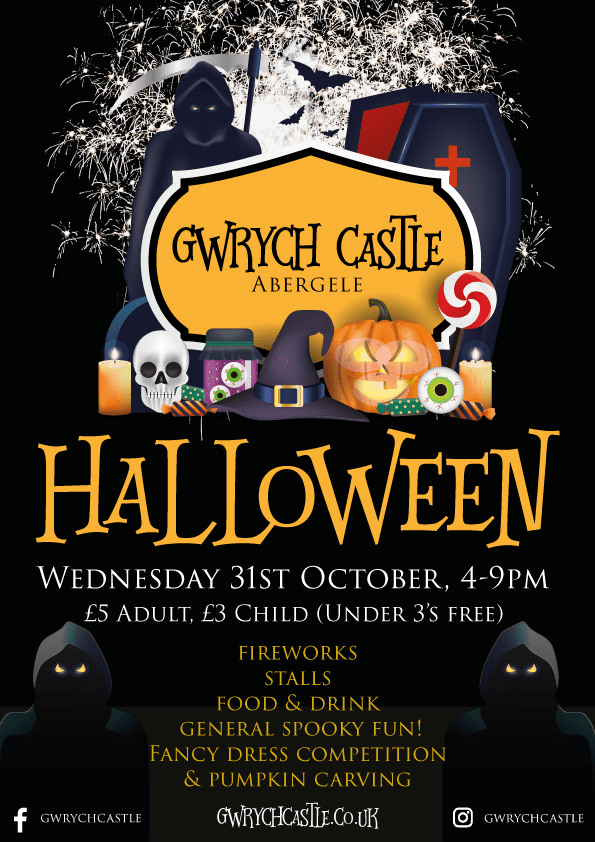 When is the event on?
Wednesday 31st October 4pm-9pm
How much does it cost?
Adults £5
Children £3
Under 3's are FREE
How do we pay?
Pay on the day at the Entrance Gate. Tickets are available in advance from Gwrych Castle or via our website.
Does our entrance fee include a look around the castle?
Yes it does.
Is there parking?
Yes, the parking is at the bottom of the castle, there is a slight hill walk to reach the event.
Is there disabled parking?
Yes, there is disabled parking
Are dogs allowed?
Dogs on leads are always allowed at the castle, however be mindful there are fireworks.
When is the firework display?
It will be approximately 8pm
What should we wear?
Please wear sensible non-slip footwear & warm clothing. Wellington Boots are acceptable.
Is there anything we should bring?
Torches or a form or light would be good. There is floodlights at the castle, but the walk from the car will be very dark.
What else is there?
We have hot beverages and cakes in the tea tent, warm food including vegetarian and Hog Roast, numerous stalls and more…..
What time are things happening?
Carved Pumpkin Competition is at 5pm (Pumpkin's to be carved before arriving)
Fancy Dress Competition is at 6pm. Age ranges for Competition are Under 3, Ages 3-6, Ages 7-10, Ages 10-14, Ages 14-16. There is a 1st, 2nd & 3rd prize for each category.
Firework Display approx. 8pm